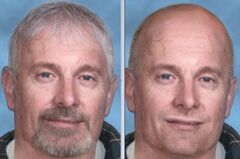 What Fisher may look like today
Robert William Fisher. A man who is just the same and in the likes of William Bradford Bishop and John List. Fisher killed his wife and 2 children on April 10th, 2001 in Scottsdale, Arizona.
When his family went to bed Robert first shot his wife Mary in the head and then slit her throat. He then went and slit the throats of both his children. He then disconnected the house's furnace gas line and then used a candle to make an explosion. There was also more gas found in the bedrooms. He then left and hasn't been seen since.
Everyone thought he was a loving father and had a good marriage but that was farther from the truth. He was apparently very controlling and Robert and Mary argued often. Robert had an affair a year earlier and contracted an STD from a woman at a rub and tug (Massage Parlour). He was kicked out of the house for awhile for that one. Can't really blame the wife. Mary had also told friends that she was thinking about divorcing Robert.. Robert didn't believe in divorce because of the children and Robert's own parents divorced. Robert how ever does believe in fucking around on your wife and murder though.
Victims
Mary Fisher- 38 year old wife of Robert. Mary and Robert met in high school and had been married for 16 years.
Britney Fisher- 12 year old daughter of Robert
Bobby Fisher 10 year old son of Robert.
There has been some speculation that Robert had committed suicide after the murders. But many people including the police believe he is well and alive somewhere.
Robert Fisher a navy veteran was born April 13th, 1961in Brooklyn, New York and is an avid outdoorsman. He worked as a respiratory therapist. He chews tobacco and has a gold crown on his upper left canine tooth. He also has surgical scars on his lower back Fisher is on the FBI's ten most wanted list and is believed to still be on the run. There have been 100s of leads but nothing concrete on this piece of shits whereabouts.
Sightings and believed sightings- In 2004 a man resembling a strong appearance to Fisher was arrested in Vancouver, British Columbia. After getting fingerprinted it was found out not to be him. In 2014 police raided a house in Commerce City, Colorado where Fisher was believed to be hiding in. Turns out it was a hoax.
Links
https://unsolvedmysteries.fandom.com/wiki/Robert_Fisher
https://en.wikipedia.org/wiki/Robert_William_Fisher
http://murderpedia.org/male.F/f/fisher-robert-william.htm
https://www.fbi.gov/wanted/topten/robert-william-fisher
https://www.azcentral.com/story/news/local/scottsdale/2016/04/08/new-renderings-few-leads-2001-robert-fisher-case/82801674/