On April 4th, 1994 at around midnight in Dallas, Texas Leon David Dorsey entered a Blockbuster Video Store. He entered with a 9mm pistol forced the 2 employees into the back room and killed them. All of this for only $392. He told his ho or girlfriend that he had committed the robbery and murders and she went and told the police. After Dorsey was interviewed by the police he admitted to the crime
At first after looking at the surveillance film the police thought that Dorsey was too tall to be the culprit.
Before being charged with the Blockbuster crime Dorsey killed 51 year old Hyon Suk Chon during a convenience store robbery in Ennis, Texas. He received 60 years for that murder. He was questioned and convicted of the Blockbuster murder while he was serving time for the Chon murder.
Dorsey showed no remorse for his actions. Saying about the victims "They are dead it is over and done with I am not sorry".
Leon David Dorsey:
Born November 17th, 1975
Victims
James Armstrong: 26 years old. Son of Gerald and Nanci. Worked at Blockbuster Video. Was shot twice by Dorsey. Was the assistant manager of Blockbuster and had worked there for 2 years. Loved to sing and was actively involved with choir. Pictured above right.
Brad Lindsey: 20 years old. Worked at Blockbuster Video. Son of Joan Coleman. Was shot once by Dorsey. Dropped out of school to work full time so he could take care of his mother. He was taking a high school equivalency test at the time of his death. Pictured above left. Lindsey wasn't even suppose to work the night of the murders. He switched shifts with another employee.
Hyon Suk Chon: 51 year old convience store manager in Ennis, Texas. The robbery occurred 5 months after the Blockbuster killings but Dorsey was charged for this one first. She was from Korea.
Tidbits
While Dorsey was in prison he stabbed another inmate.
At age 14 Dorsey took a gun to school and discharged it in the classroom.
At age 15 Dorsey lived on an air force base and committed several property crimes.
At age 16 Dorsey shot a gun at a couple in a car and threatened to kill them.
Then at 18 Dorsey robbed and murdered 2 blockbuster employees.
Dorsey referred to himself that his nickname was "Pistol Pete" in court.
He was 10 years old and still in kindergarten.
He also stabbed a correction officer while on death row. The officer was stabbed in the back 14 times with a "shank" that had an 8 inch blade. The guards body armour prevented serious injuries.
Dorsey was written up for infractions at least 95 times in the 8 years he was on death row.
Dorsey also said in court "I've stabbed folk, I've cut folk, I've killed folk, and it don't bother me".
After Dorsey was executed officers found a "shank" in his cell.
Dorsey was called the meanest prisoner guards had ever seen on death row.
Dorsey offered another inmate $5,000 to take the blame for the Blockbuster Murders.
When Dorsey was younger he use to walk down the street with a sawed off shot gun in his coat and show it to people to scare them. He just loved to see their reaction.
Sentencing:
In May of 2000 Dorsey was convicted of capital murder and sentenced to death. He was executed on August 12th, 2008. He was 32 at the time of his execution.
Thank the world this useless subhuman is dead. They shouldn't of wasted the tax payers money keeping him alive on death row for as long as they did.
http://www.nbcnews.com/id/26173740/ns/us_news-crime_and_courts/t/texas-executes-pistol-pete-double-slaying/#.VQSla_nF9KA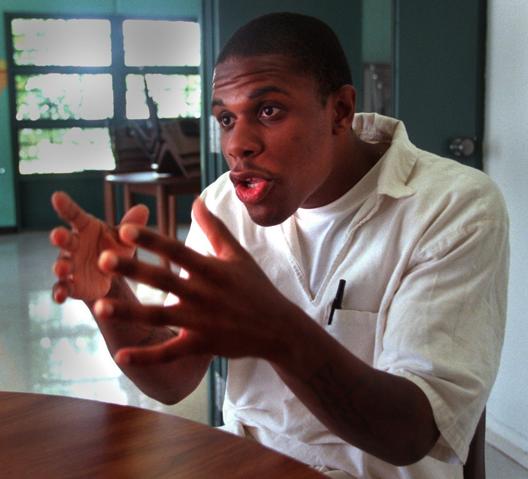 "Watermelons G. Watermelons this mutha fuckin' big. Right in my black asshole."
Fucking stupid nigger propaganda.
y