You know what they say "Monkey see, Monkey do". That is exactly what Devin Moore did (birth name Devin Darnell Thompson) after he played the video game Grand Theft Auto Vice City back in June 7th of 2003. This happened in Fayette, Alabama.
Moore stole a car and was arrested by police. While he was in the police station he grabbed one of the officers guns. Then he shot 2 police officers and a dispatcher dead. But before he shot the officers he said "Life is like a video game, you have to die sometime".
Moore had no previous criminal record and was very cooperative when Strickland took him in for Auto Theft. Then apparently he just snapped.
According to Moore's own statement he grabbed Officer Arnold Strickland's gun and shot him twice in the head. Then he walked down the hall and encountered Officer James Crump and shot him 3 times hitting him once in the head. Then on his way out the door he seen the dispatcher and fired 5 shots at him. The he took a pair of car keys from the station and stole a police cruiser. All of this in less than a minutes time. Moore was arrested a few hours later in Mississippi.
Devin Moore:
(Born May 15th, 1985) Had just recently graduated from high school and was preparing to leave for the Air Force at the end of the summer.
Law Suits:
Like in all crimes in liberal minds instead of blaming the moron who did the crime they try to find someone else to blame. Of course they blame the video maker Sony and even the store where he bought the game Walmart as being more responsible for the crime than Moore. Multi-
million dollar law suits had been filed on behave of the victims families. It was brought up that the way how Moore carried out the murders is identical to a mission that needs to be completed in the video game. That is of escape the police station, kill the cops, and then steal a police cruiser.
Strickland and Mealer's families are suing Moore, Walmart, and Game Stop.
Victims
Ace Mealer: 911 Dispatcher
James Crump: Police Officer
Arnold Strickland: Police Officer. Was on the force for over 25 years.
Sentencing:
Moore was sentenced to death on October 9th, 2005.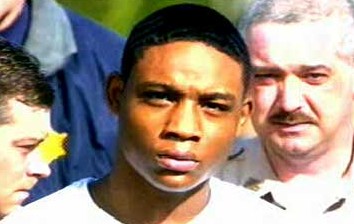 Links