Erika and Benjamin Sifrit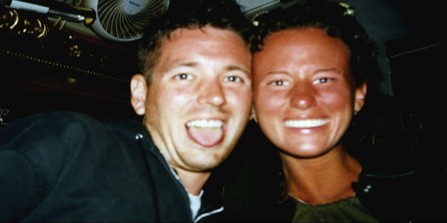 On May 25th, 2002 the Sifrits both 24 at the time they met a couple while vacationing in Ocean City, Maryland. They were Joshua Ford and Martha Crutchley. After going out and partying at a local bar the Sifrit's invited them back to their rented condo. According to court records. The couple invited them back to their rental condo and then killed them. There are also rumours BJ sat in a hot tub with Ford's and Crutchley's heads floating in it.
After luring the couple into their rental they claimed that Erika's purse was stolen. This was after a night when they befriended them. BJ then pulled a gun on Ford and shot him in the bathroom 4 times. Crutchley was stabbed to death. They hucked their remains in dumpsters all over town.
Erika Elaine Sifrit (née Grace; born February 3, 1978) in Roaring Spring, Pennsylvania: Is some flat chested ugly chick who
is currently going to spend the rest of her life in jail. She is in Patuxent Institution in Jessup, Maryland. She is an only child born to a very well to do off family. She was an honor student and basketball star at Mary Washington College. Her and Ben married in 1998 at 20 years old.
After her and Ben married they opened up a Scrapbook store in Erika's home town of Altoona, Pennsylvania. Due to the fact that she is ugly and has tic tac tits she got little to no media attention. If any man got a boner over her they would be the same type of person who liked little boys. Hence see her boyfriend below. She married the dipshit when both were 20 years old.
Back to those invisible tits fuck. You own a scrap book store. Rip some pages out of a book and stuff like a 12 year old girl at least. This woman is an erection killer.
Benjamin Adam "BJ" Sifrit
(born October 21, 1977): Is a former marine who is probably currently
getting butt fucked by some big nigger named Bubba. Has to pay rent at his new home he has at Roxburry Correctional Facility in Hagerstown, Maryland. If this fuck head wouldn't of got caught breaking into a Hooters store with his flat chested wife he may of got away. Some may think maybe they broke into the Hooters restaurant to find Erika some tits. He eloped with the little boy or Erika whatever in Vegas. He also got kicked out of the military. No one knows why exactly but I imagine his attraction to little boys looking like Erika may of been the problem.
Victims
Jonathan Ford & Martha Crutchley
How do you get a hard on over that little boy? Do you put a popsicle stick in your pee hole?

Tid Bits
2010 these scum bags got divorced

Erika is eligible for parole in 2024 BJ in 2021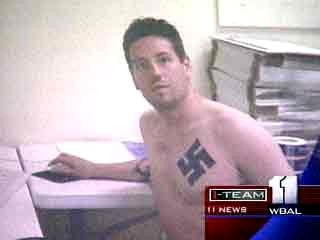 Links
https://en.wikipedia.org/wiki/Erika_and_Benjamin_Sifrit
http://murderpedia.org/male.S/s/sifrit-benjamin.htm
https://crimewatchdaily.com/2016/02/22/the-young-couple-who-did-everything-together-including-murder/
The club in Ocean City where the couples met.
They made #6 on List Verse's Killer Couples. The Kill Seekers
Benjamin Sifrit was an ex–Navy Seal who had a swastika tattoo and owned snakes named HIV, Bonnie, Clyde, and Hitler. His wife, Erika, had been an athlete and academic dynamo growing up and later ran a scrapbook store with her husband. It was an odd pairing with tragic results.
At some point in their marriage, killing became a game with simple rules. While hanging out with another couple in Ocean City, Maryland, Erika would pretend that she'd been robbed. Her husband would produce a gun to scare the other couple. Insufficient submissiveness resulted in death.
That, investigators believe, was how Joshua Ford and Martha Crutchley died. In 2002, the Sifrits shot, dismembered, and even debated eating the couple.