This is Sara , she's from Tulsa, Oklahoma, but currently lives with her dad, because she can't afford to pay her own bills because she's always buying drugs, didn't matter which kind. Be careful Ladies and gentleman stress a known carrier of drds, and will sleep with anyone that shows her attention and will get her drugs. She works at Hooters in Owasso and Tulsa areas, where I met her at her job all pilled out. Only after 10 minutes into a beer her face was in between my legs as I was sitting at the booth drinking my beer.
August 4th, 2020
This woman Tee of Broken Arrow has no respect for marriage, herself, her kids, or her husband. How can a woman be so low to do this stuff constantly and disrespect her husband. Oh wait she is not a woman she is a whore!!! I feel sorry for her children to grow up this way to have a mother who sets no grounds for how to respect yourself or your husband. This woman should not be let out of her house. Her husband should leave her. I fuck her at least 3 times a week ( I am one of many in town) I blast my load all over the bed that her husband paid for and he has to sleep in my jizz (along with lots of other dudes). I have tag teamed her with my bowling team its a fucking blast at Tee's house, (Or her husbands house). Chick needs help. Plus Tee is getting old, bitch is almost 30 her ass and vagina are sagging pretty fucking harsh. Time to upgrade!
So this woman Megan of Tulsa here cheated on her first husband , got pregnant , had an abortion, cheated again with another cop , got pregnant , then cheated on him with another cop and cheated on that cop with another. This hoe can't keep her legs closed for nothing and can't be satisfied with one man. She spreading those legs for any d1ck she can't get and doesn't care if the man is married or not. She just having sex with anyone who will give it to her. Mostly cops who she thinks have $$$ . Beware of This lady. She gets drugs from the cops and sells them back to the niggers on the street they got taken from and then repeats. Fake racist.
One Last Load Whitney!! This woman has no class. Filthy and Dirty. A couple of my buddies had sex with her behind a dumpster and thought that it would be cool if I filmed it and joined in. I didn't mind. Throughout the wiener fest I noticed that she stunk like shit due to the fact she rarely showered. She always cried about random shit and I think that she may be on crack and or meth. I couldn't really tell. I later dated her as it was a little bit of an upgrade from the crusty sock under my bed She cheated on me twice with a few guys that went to her yoga classes at Salt Yoga. Worse decision I ever made I have these warts on my cock and balls that burn. They are huge and white like cauliflower. I have to go to the doctor to get them grinded off with a grinding belt.
——————————————————————-
———————————————————————————–
Members of a Tulsa, Oklahoma, family are hoping they will finally see justice after years of feeling the system let them down and ignored their pleas for help to keep a racist neighbor from killing their son.
Stanley Vernon Majors is set to go on trial Monday on hate crime and first-degree murder charges in the death of Khalid Jabara, 37. Majors walked up to the front steps of the family porch and shot and killed Jabara in August 2016, police said.
The Jabara family spoke to CNN in September about the fatal shooting, a killing they say was fueled by hate. It was an violent act the Jabaras say never should have been allowed to happen.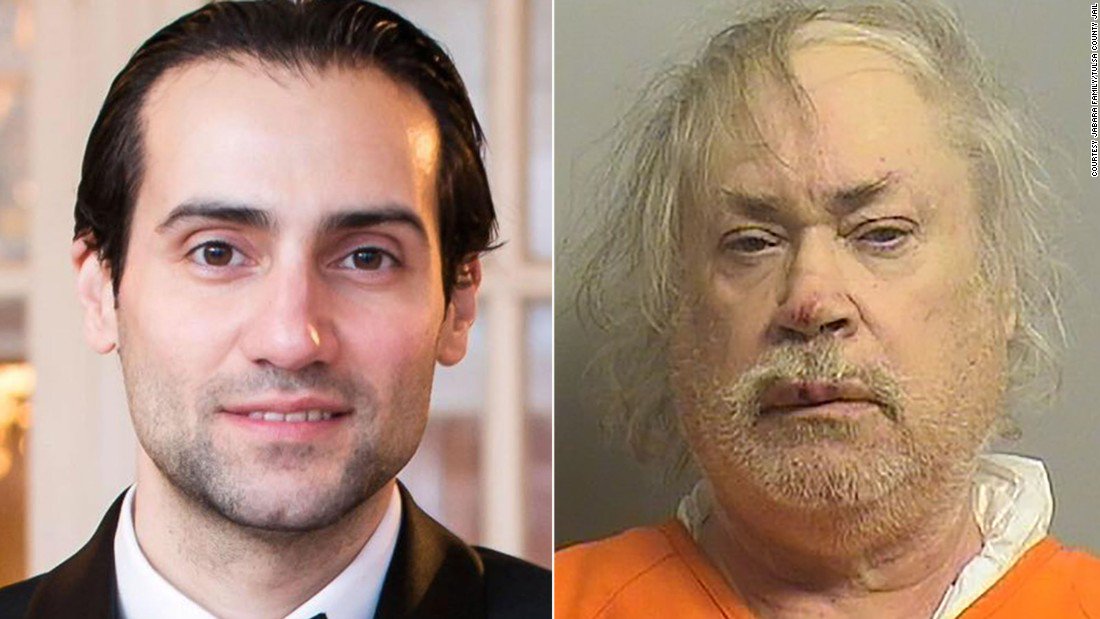 That old homely looking fuck on the right killed that light skinned paki on the left. This is CNN reporting this shit although probably true. CNN loves to make minorities look like victims even if they are not. I am amazed CNN didn't put a picture of a black guy murdered and then added a hood to good old Stanley there.
Majors would stand on the adjoining property line, their lawn or their driveway or on their quiet Tulsa suburban street and shout that they were "dirty Arabs," according to the Jabara family. He called them "Mooslems," and "dirty Lebanese." He apparently had no idea they were Christians who fled civil war and religious persecution in Lebanon decades ago.CNN reached out to defense lawyer Richard Koller for comment but has not heard back. Koller, a public defender, declined an interview in September at Majors' request.The family says Majors should never have been allowed to live next door to them after the years of harassment."We are the victims. And we look toward our city officials who are more well-versed in the judicial and criminal system to help protect us. And I feel that didn't happen at all," Khalid's sister Victoria Jabara Williams told CNN last year. "It was just a system failure. And we got lost in the shuffle." https://www.cnn.com/2018/01/21/us/hate-next-door-trial-jabara/index.html
https://www.cbsnews.com/news/man-slain-near-tulsa-oklahoma-bar-was-set-to-help-victims-of-violence/