Ok, so one night I get a message from an anonymous person telling me that they saw my husband's car at a house that wasn't associated with family and it was pretty late at night. So, I tracked his phone and sure enough. Well, since I'm pregnant, I couldn't just go over there like I wanted to to confront them. So, I found Eva online and I let her know that he was married and that she needed to back off. Instead of saying I'm sorry or anything of that nature, she started getting all defensive saying that it's not my business what she does that it's her life and that she's going to tell my husband to get me for slandering his name. And that I need to stop stalking her. I told her nobody was stalking her, that I had just got information that my husband was at her house. She never apologized and instead kept insisting that she can do what she wants with who she wants since it's her life. She's not hurting anybody. Just to get the point I went over into her fucking head I got my sister to club her repeatedly with 7 iron golf club. I think now she FORE gets.
This unstable scuzzy clam Brandine is as dumb as dog shit. "Single mom, hard working, divorcee" who cant keep her knees together. She met my husband at his place of employment at the time and played the victim card. He paid her to suck him off for a bit and then never paid her. She got mad and demanded money. She did everything in her power to maintain in contact with him after the fact and slowly turned it into what she called "a two year relationship" of her going back asking for the money then just sucking him off and fucking him and my husband telling her he would pay her later. Knowing full well he was in a long term relationship with children and barely could afford bus fare. It didnt stop her. She was proud to be the side b1tch!! She admitted she was the side b1tch as she cried all over social media. She works at the mall during the week selling other slut panties to fat nigger women. Then on the weekends she is out stripping while some crack head looks after her child. Just turned 19 sad sad sad.
Leslie doesn't know what she wants, a confused individual one day she's a carpet munching fucking lesbian and next she's straight getting slapped in the face with 4 cocks at the smae time. She's had more dick and pussy than the days in the month. I've known her 10 years which was a sexual relationship on and off due to her always playing games. She is a lying whore who betrayed me with my own family not once but twice that is just what I know of we all know its more! She had access to my apartment while I was away, long story short I came earlier than expected and I find her sucking my brothers cock in the shower which has a wife. It was already going on so I took my dick out and bent her over while she sucked off my brother. But after I jizzed I got mad at her. She also had a three some with my cousin and brothers best friend which is a big disrespect to me because not only did she do my brother & ruin his marriage she also went and had oral sex with my girl cousin and gave her Chlamydia and had sex with brothers best friend. She hates seeing people happy,
---
---
This tough fuck beat up his pregnant girlfriend. Hey that is 2 against one the odds were against him. Any woman who would date that guy is probably a drug addict. I bet you he is thinking what we are all thinking. How did they recognise him?
Africans never invented fire and slaves were not allowed to use it during the slave trade. So a negro gets excited when it sees no inventions. It is like forbidden to the black race.
Mayra is sort of hot. What is she doing with that dork? In that picture. Now enter meth.
Abusive gang banger boyfriend and more meth.
Now lets add some crack/cocaine in there and a couple months and boom here you go
———————————————————————————————————-
Guys like this deserve the worst. They have to legally give you his address for your safety and others. Now I do not agree with illegal acts but wishing something is not a threat. I wish someone would beat the hell out of that guy and burn his house down. That is a wish a dream. Now it is not illegal to talk to 17 year old punk neighbours of his and talk and tell them your wish. If you ACCIDENTALLY drop 1000 dollars and lord knows what happened to it that isn't illegal. If they find money report it and it isn't claimed then it is theirs. If they accidentally forget a jerry can at his doorstep while smoking because someone said he needed some gas to fill up. And accidentally drop the smoke. And the place Accidentally burns to the ground. No crime occurred. Just really clumsy people.
.A grand jury indicted Danny Badillo, 48, of Lubbock on Tuesday afternoon for aggravated sexual assault of a child. Officials said the victim was a 9-year-old boy.
Officials said Badillo sexually assaulted the boy three times in October. The case was investigated by the Lubbock County Sheriff's Office.
According to the Texas Sex Offender Registry, Badillo was convicted in 2001 for "attempt to commit indecency with a child, sexual contact." The registry said Badillo's victim was a 9-year-old girl. He was sentenced to probation and required to register as a sex offender at that time.
———————————————————————————————————–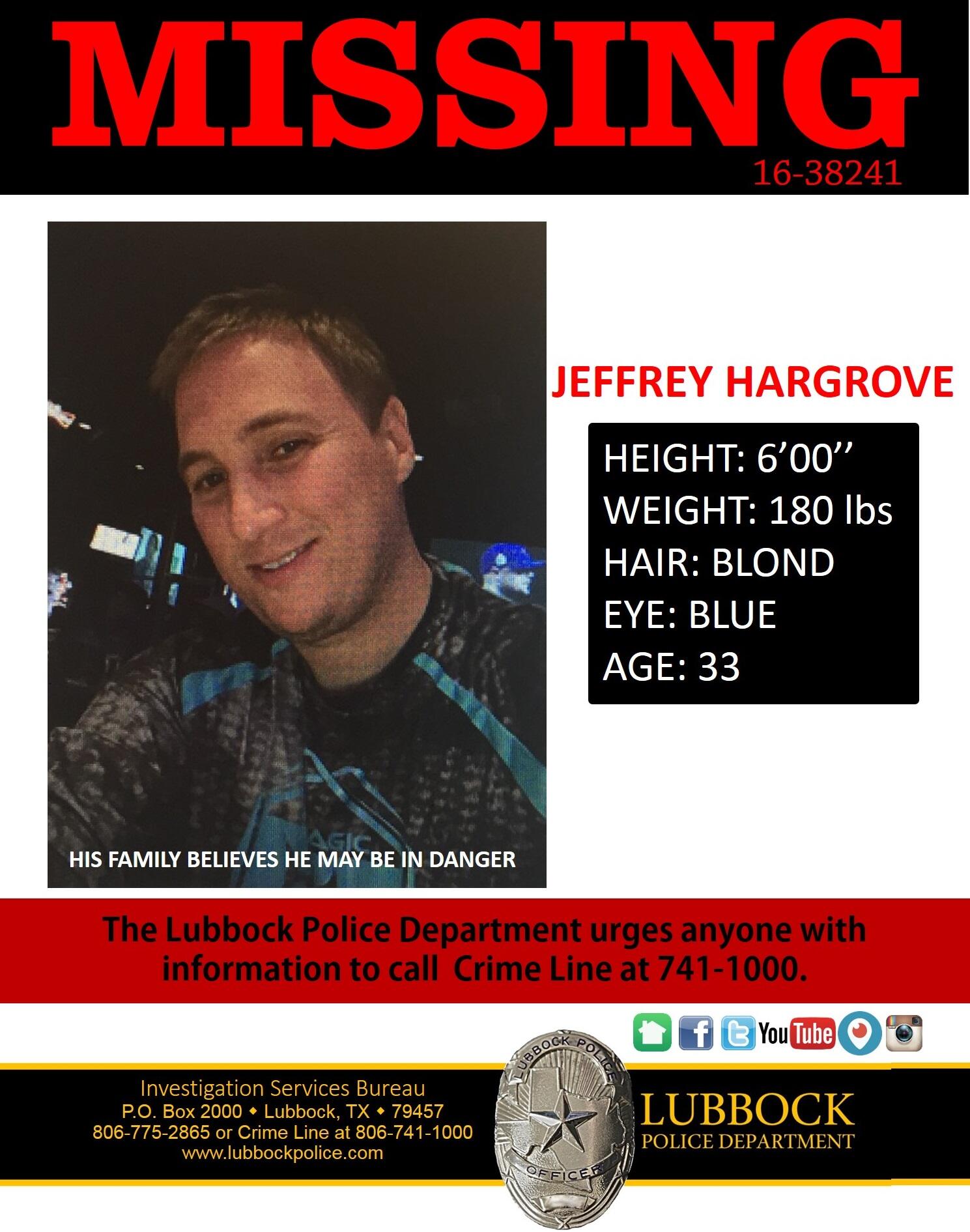 The Lubbock Police Department would again like to ask for the public's help in locating 33-year-old Texas Tech student Jeffrey Hargrove. Mr. Hargrove is listed as a Missing Endangered Person. His mother reported him missing on Monday and says the last time she spoke to her son was Saturday night.
On duty officers were immediately alerted to be on the lookout for Hargrove, and detectives are actively investigating his case and following up on leads. Hargrove is described as 6'00" weighing 180 pounds with blonde hair and blue eyes.
If you have any information about this case or Mr. Hargrove's whereabouts please contact the Lubbock Police Department or call Crime Line at 806-741-1000. Callers can remain anonymous.
This idiot is believed to.(Which means he did) steal from a pawn shop. Thats a place to get rid of stolen goods not get more. Unless his crack dealer has a layaway colateral program whats the point.
——————————————————————————————-
Lubbock was also San Antonio native Rosendo Rodriquez's crime field. Who killed 2 women there. I believe there is more though. Something about looking at that piece of shit (dead now) makes me feel there are more victims.
---
Other Related Posts On This Great Blog