London or(whatever she calls herself these days) is an absolute fucking dirty slore. She got knocked up while in high school and has been sleeping with anyone in Saskatoon since. I met her on POF 3 years ago and she smelt like absolute sweat/BO when in I picked her up in my car. We hooked up, ansd a week later I had warts all over my d1ck they hurt like fuck when I scratched them. Also, when I slept with her in her basement she had her boyfriends shoes sitting inside the door, I pulled my dick out of her vagina and bugs started crawling out of her snatch and bit my cock. She just recently got knocked up again a year ago by some lysol drinking chug indian. I am really glad to see that she is continuing to spread her warts, get pregnant, and give birth to kids who have piece of sh1t dads that leave every other year. This girl is a wart-infested sloot that sues men for sex and to get her knocked up so she can live off our taxes. She is native in almost any fucking imaginable way how she lives.
---
Saskatoon Pride Parade. LOL. They should have it at a native reserve or one of Saskatoon's many fine safe injection sites.
---
This dirty hooker is none other than KELLY !!!! Or Riley, or sleezyveasy as she is known. Anyways this goof whose vagina smells like rotten eggs has a huge following of men from 16 -89 she has had them all! And to think some dumb fagot Meth Dealer sucker proposed to her?!?! Yes, a stupid old gay white guy who is part of the KKK, so now she thinks she is something, even though she still has most of her old tricks like her brother on the side, I hear they don't give her much cash anymore but she don't mind drugs are just as good for she loves jabbing herself with the needle she shares with homosexuals and passing out in old men's hotel rooms and that's where her men friends pay her back for all her burns by running a train on this bitch!! She loves every second of it. She left the rez and never looks back in her new future of porn. Natives aren't in porn due to their naturally small wieners. Ain't nobody want to watch that even a chug bitch.
---
—————————————————————————————–
Get a couple of beer in ya that squaw might be fuckable
——————————————————————————–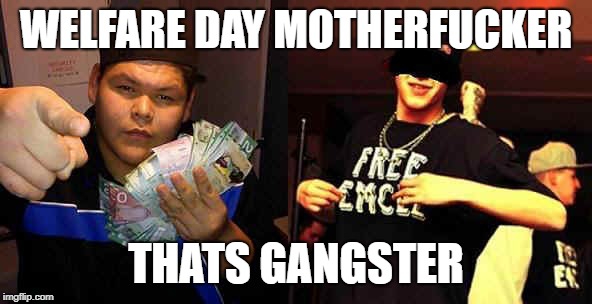 ———————————————————————————————————————-
This guy is a real winner. David McCallum. But hey ladies not all is lost on him. He has a nice home. The psychiatric centre in Saskatoon, Saskatchewan. He likes to write. But he stabbed a fellow prisoner with a pencil in the face. So his days of being an author are a little on hold for the moment. He is in his early 40's and is still an aspiring rapper. And yes he has fashion sense. He dresses like a 10 year old wigger. Apparently his older sister sexually abused him as a child.
He threw urine at a teacher in school. https://foruminfostormercom.s3.dualstack.us-east-2.amazonaws.com/original/2X/f/f524991cf1bb4dbdc750b7609f5825755f4d75a2.jpg
It is just a lose of words that this guy is still single. I wonder why that is. Hurry up black ladies and ride the chief here.
Yeah send your phone number to this guy. Also your address so when he escapes he can come over and visit you with a bucket of piss and a pencil. He will write a dope beat about it. Send him some real fucking clothes. I don't care how mentally ill someone is that just looks fucking pathetic. But he likes to make money which is a good thing. That shiny nickle he gets a day for washing dishes in the cafeteria will go far for him.
After looking through all the disease infested squaws and white trailer trash in this town this was the only do able one I found. But wear the rubbers she is from Saskapoon after all. " Everyone basically knows channel and she's not ashamed of her drug addiction to meth she yells around and tries to act good all the time but when it comes down to it she will charge you for assault. She will come at you and push you around, but you can't do it back this girl is a rat Nothing but a cop caller and statement writer but yet she's supposed to be this "solid" meth head b1tch " I reckon you all take one for the team and give Channel a call when you get into Saskatoon. Your wiener will thank you. Minus the burn when you pee.
Jennifer that is because you are ugly and look like a man.