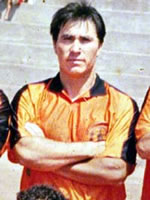 Julio Perez Silva-(Born July 15th, 1963) Is a Chilean serial killer from La Pampa currently serving a life sentence for raping and murdering. He liked to beat women with numerous objects but his favourite was rocks. Should of been a geologist. He worked as a taxi driver an his MO was the same. Offer young girls free rides. If they say no threaten them with a knife. he left some bodies and threw some down abandoned mines. Imagine if he threw one down this mine in Chile.
People seemed to like him alot and said good things about him. In fact someone said the only time he seemed threatening is when he played soccer. Soccer what a gay game. They need hitting. The way those pussies play it they should wear dresses. Like baseball players. Hispanics tend to be good at gay things. Soccer, Baseball, Dancing….. He also liked kneading bread and talking about his 3 dogs. He married at 22 and had 2 daughters.
Julio's crimes stared September 16th, 1998. He offered a women money for sex. Then the bitch tried to rob Julio. Big mistake she wound up dead on the beach in Iquique, Chile.
Coastal city of Iquique, Chile
Her name was Graciela Saravia she was only 17 years old.
Over a year later in November of 1999 Julio went a little younger. He seen Macarena Sanchez who was only 14 and in the 8th grade. In 2000 he added Laura Henriquez(15), Catherine Rivera(16), Patricia Palma(17), Macarena Montecinos(15), and Viviana Moe (16). Where does he have time for soccer? That is just what authorities knew. Once busted he also got charged with Sara Cuevez. Anglica Alcayata, Ornella Cepeda, Angelica Castro, Dayzi Manani, Gisella Navaro, and Ivon Lefno. All between 1999-2001. When parents of the young girls reported them missing authorities started to believe of a prostitution ring. Taking place in neighbouring Boliva and Peru.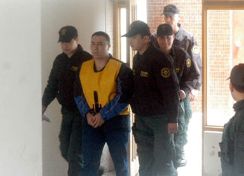 Capture- His last victim lived the sick fuck raped a 13 year old girl at knife point. She made it into town and gave the cops a description.
Perez will probably never step foot outside of a jail cell. 40 years is life in Chile. So they say. He tried to kill himself by hanging himself with a shoelace in 2005.
He was charged with these murders
Viviana Garay, 16

Katherine Arce, 16

Patricia Palma, 17

Macarena Montecino, 16

Macarena Sánchez, 14

Laura Zola, 15

Gisela Melgarejo, 36

Angelica Palape, 45

Deysi Castro, 16

Sara Gomez, 18

Graciela Saravia, 18

Ornella Linares, 16

Angelica Lay, 24

Ivonne Carrillo, 15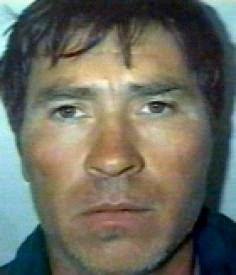 Links
https://en.wikipedia.org/wiki/Julio_P%C3%A9rez_Silva
http://www.murderpedia.org/male.P/p/perez-silva-julio.htm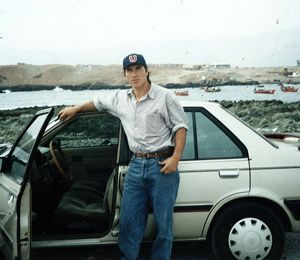 He picked up some of his victims in this vehicle. Minus the fact he used a knife to lure most of them at least you knew that they weren't gold diggers.