Johannesburg, South Africa
Come on Jamal You don't smoke that foo
You guys shit on the ground everywhere, Why the fuck are you fighting over a port-o-shitter?
————————————————————
Johannesburg's version of the Village People the Slum Niggers
He or she (I get confused on the negro gender.) Painted their face black. That's fucking racist call the South African version of Jessie Jackscoon.
No wonder negros are full of disease.
We do not understand why we are a third world country? Minus the fact that we are kicking whites out and writting on cement in our own areas. Oh yeah those fucking garbage cans, We don't use them we just through bags on the street. Why is no one picking them up? Oh yeah whitey is gone and or sick of cleaning up or failures and shit.
————————————————————–
Dumb Criminals oh well they are niggers what do you expect
——————————————————————————–
Skills and Trades of Johannesburg
Drummer lady I bet the flies puke when they fly by her vagina.
These niggers stole a police van and uniforms
This slugger wants a MLB career
This nigger buck wants to join his homie up there but wants to be a pitcher in the majors.

Gay Escort. Nigger Buck on the downlow. Since all nigger women are ugly and it is hard to tell the males from the females lots of niggers engage in homosexual acts. They may as well get paid while doing it.
Professional Liquor Tester. Test fine booze from all over the world at one cheap price. A paws discount.
Theater of fine arts. Become a professional Bongo Dancer or join a crew.
Fixing tires
Ice Cream Truck Vendor. Since niggers never invented the wheel and probably never will. Why start now just start selling stolen ice cream in the hot weather. Except for vanilla. It is white so must be racist and is holding the black man down.
House Keeper. One day this Aunt Jemima looking sheboon will work at the local Holiday Inn. We recommend that you still do not keep valuables in the room as she is still in transition.
Religious Preacher
Police Officer/Auto Repair Man. Arrest a nigger then go fix a car.
Future Olympic Track and Field Gold Medalist
This negro going to be a butcher someday. He has a great teacher and that would be this angry negro below. I think the teacher is mad because the younger negro never cleaned the guts off of his knife. That's bad hygiene.
——————————————————————————–
This negro is an aspiring lumberjack. The black Paul Bunyon of Jo'burg. He only chops people up sometimes. Mainly on days where he is not occupied with chicken and or watermelon.
—————————————————————————-
I am assuming these fine young gentleman are carpenters heading to work. Look there is a guy with a hammer. And another with a shovel. Oh and look some fellas are bringing wood. They must be going to re fix the houses that other niggers there destroyed. And you can be assured that all those tools were bought legally at a local hardware store.
——————————————————————————————————————

He is just a nigger it doesn't mean he is char broiled. I don't think you need the fire extinguisher. Also If a nigger is on fire who would put it out?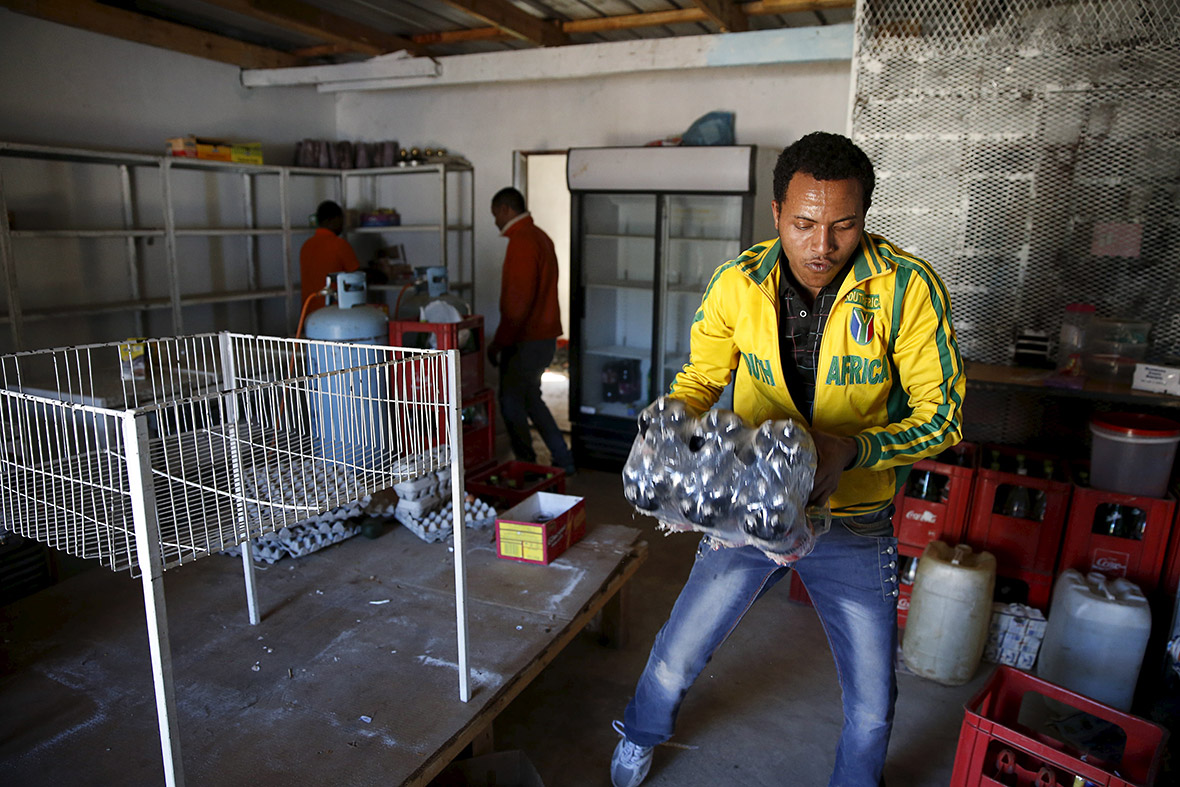 Not Much Left To Steal Here
Nothing like a good old bongo party. 2 Nigerians were killed in Joburg. No wonder I have not got anymore emails lately about them having millions if I send them money first.
Crime-obsessed South Africans have a powerful new weapon with which to stop likely criminals: the car flamethrower.
Casting a man-high fireball, reportedly with no damage to the paint, the Blaster has been placed on 25 South African vehicles since its introduction last month.
At 3,900 rand ($655), it offers a cheap, dramatic defense against carjackers. It has yet to be deemed illegal.
South African courts allow killing if convinced that it's in self-defense. The defense is not unheard of. In last year's 13,000 carjackings, criminals often brandished weapons or used them with little provocation.
The Blaster squirts liquefied gas from a bottle in the automobile's trunk through two nozzles, located under the front doors. The gas is then ignited by an electric spark, with fiery consequences.
Both sides flame at the same time, regardless of whether the attack is coming from just one side of the vehicle, or whether passersby are on the other side. But the breadth and depth of blast can be modified according to individual preference.
Niggers live in filth PERIOD> Fucking Gross

In the whole world.