Dana Ewell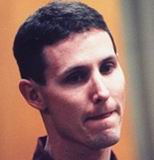 Dana Ewell had it all. But sadly wanted more.I am going to write this alot different than I usually do with posts. I will flat out say it this sick fuck killed his father, mother, and sister. Thinking he was getting a big inheritance. It took the cops 5 years to catch him but they eventually did. Dana Ewell and his friend Joel Radovich were sentenced to life in prison. My opinion they should of got the death penalty.
Dana`s father Dale (whom he plotted to murder) Was a multi-millionaire. He owned a airplane sales company. Sadly the housekeeper entered the house to see the bodies of Tiffany 24 (Dana's sister), Glee (His mother) 57, and Dale (his father) 59 all murdered.
There was no sign of forced entry and the alarm was turned off. Something the family never did.
2 dedicated cops worked for 5 years to prove that Dana Ewell was involved in the cold blooded death of his family in their beautiful Fresno home. It is believed that the gunman Joel Radovich was sitting in this house waiting for the Ewell`s to return. It has been said that he was sitting on plastic and shaved of all his body hair to not leave any evidence he was there. It is believed Tiffany (Dana`s sister was killed first with a bullet to the back of the head. Then Glee (The mother was killed in the kitchen shot 4 times). Dale (the father) Came home later as he brought a plane back home. He was killed about 45 minutes later in the entrance way with mail still in his hand.
For the first 3 years the cops gathered alot of evidence on Ewell and Radovich even cloning a pager that Radovich had. But they didn`t have enough to have the Fresno DA bring charges to the 2. Then they found out who Jack Ponce was. They found out Ponce had bought a 9mm assault rifle and just happened to be Radovich`s classmate. When detectives told Ponce he could be charged with being an accessory to murder he decided to co operate with police. He got immunity to testify.
Ponce gave detectives details of the murder that Radovich had told him and also led them to the barrel of the assault rifle the weapon used in the murders.
Culprits: Dana Ewell (Born January, 28th 1971): Was sentenced to 3 life sentences for the triple murder of his father, mother, and sister. He was 21 at the time in 1992. This occurred in Fresno, California. It is rumoured that Dana and his father had a fallout as Dana lied to his school (Santa Clara University) that he was a multi millionaire that owned his fathers business.
Although at the time of the murders Dana had a valid alibi. He was in Santa Clara with his girlfriend and her parents, Monica Zent. I will get into her later.
After the death of his family Dana was furious when he found out he would not receive any money until he would be 35. It was then that his uncle thought that he had something to do with the deaths.
Dana also lived in his parents house after their murders. There was still blood and brain matter on the walls. If someone killed my family I would want protective custody. This guy as I heard described is as dirty as the dirt.
Joel Radovich: Dana Ewell got his friend and class mate Joel Radovich (pictured above) to kill his family.
Ernest Jack Ponce: This is the man that supplied Radovich with the murder weapon. He also hid evidence after the crime. He was granted immunity for testifying against Ewell and Radovich. It is still unkown if he was in the Ewell house at the time of the murders.
Ponce is now a lawyer in Orange County.
Monica Zent: It is unknown if she had any knowledge of the crimes. She was Dana`s girlfriend at the time of the murders. Dana was also at her house when the murders occurred. Dana also paid for some of her tuition when she was at San Diego State University. Her father was an FBI agent. She is now a lawyer just like Ponce.
Sentencing: On May 12th, 1998 Ewell and Radovich were sentenced to life in prison. Ponce got off for his testimony and immunity he received for doing so. Ewell told Radovich he would give him money for killing his parents. He also paid for helicopter lessons for Radovich.
Other Tidbits on the Case:
Corcoran (4A4R-16L)
PO Box 3476
Corcoran, CA 93212-3476 USA
Some References