---
This tough fuck beat up his pregnant girlfriend. Hey that is 2 against one the odds were against him. Any woman who would date that guy is probably a drug addict. I bet you he is thinking what we are all thinking. How did they recognise him?
Africans never invented fire and slaves were not allowed to use it during the slave trade. So a negro gets excited when it sees no inventions. It is like forbidden to the black race.
Mayra is sort of hot. What is she doing with that dork? In that picture. Now enter meth.
Abusive gang banger boyfriend and more meth.
Now lets add some crack/cocaine in there and a couple months and boom here you go
———————————————————————————————————-
Guys like this deserve the worst. They have to legally give you his address for your safety and others. Now I do not agree with illegal acts but wishing something is not a threat. I wish someone would beat the hell out of that guy and burn his house down. That is a wish a dream. Now it is not illegal to talk to 17 year old punk neighbours of his and talk and tell them your wish. If you ACCIDENTALLY drop 1000 dollars and lord knows what happened to it that isn't illegal. If they find money report it and it isn't claimed then it is theirs. If they accidentally forget a jerry can at his doorstep while smoking because someone said he needed some gas to fill up. And accidentally drop the smoke. And the place Accidentally burns to the ground. No crime occurred. Just really clumsy people.
.A grand jury indicted Danny Badillo, 48, of Lubbock on Tuesday afternoon for aggravated sexual assault of a child.  Officials said the victim was a 9-year-old boy.
Officials said Badillo sexually assaulted the boy three times in October.  The case was investigated by the Lubbock County Sheriff's Office.
According to the Texas Sex Offender Registry, Badillo was convicted in 2001 for "attempt to commit indecency with a child, sexual contact."  The registry said Badillo's victim was a 9-year-old girl.  He was sentenced to probation and required to register as a sex offender at that time.
———————————————————————————————————–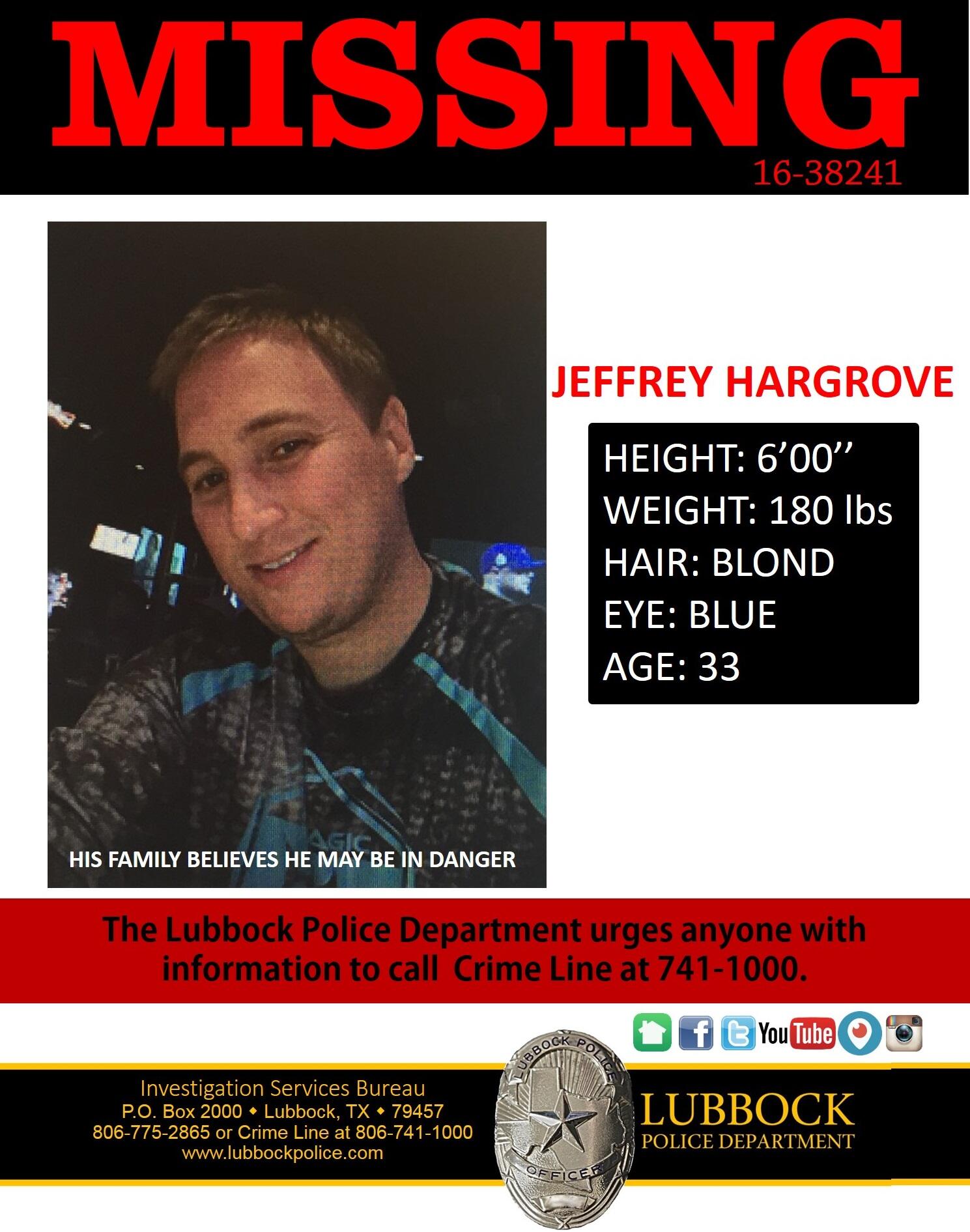 The Lubbock Police Department would again like to ask for the public's help in locating 33-year-old Texas Tech student Jeffrey Hargrove. Mr. Hargrove is listed as a Missing Endangered Person. His mother reported him missing on Monday and says the last time she spoke to her son was Saturday night.
On duty officers were immediately alerted to be on the lookout for Hargrove, and detectives are actively investigating his case and following up on leads. Hargrove is described as 6'00" weighing 180 pounds with blonde hair and blue eyes.
If you have any information about this case or Mr. Hargrove's whereabouts please contact the Lubbock Police Department or call Crime Line at 806-741-1000. Callers can remain anonymous.
This idiot is believed to.(Which means he did) steal from a pawn shop. Thats a place to get rid of stolen goods not get more. Unless his crack dealer has a layaway colateral program whats the point.
——————————————————————————————-
Lubbock was also San Antonio native Rosendo Rodriquez's crime field. Who killed 2 women there. I believe there is more though. Something about looking at that piece of shit (dead now) makes me feel there are more victims.